On this page, I present the actual solutions installed in the kitchen of our smart home, with links to specific products used and how these have been set up
This room contains solutions for the following systems (notice that on phones, the table might only be displayed in landscape mode):
System Type
Components
Lighting

Aqara smart light switch

Aqara wireless switch

Fibaro Walli Outlet

Functional LED light strips with battery

LED light panel with motion sensor

2 IKEA MittLed light strips

2 IKEA Omlopp LED light strips

IKEA Skydrag LED light strip

2 Philips Hue E14 candle smart bulbs

Philips Hue G93 filament bulb

3 Philips Hue (indoor) light strips

2 Yeelight Aurora Lightstrip Plus

Climate Control
None
Home Entertainment
None
Security and Alarm

Fibaro window sensor

Verisure siren

Pet Care

4 SureFeed smart pet feeder

Appliances and food
Description of the solutions in this room
Starting with lighting, this required some investigation into different possible solutions. The simplest to make smarter were lights in the kitchen ventilator, where the old bulbs could simply be replaced with E14 chandelier smart bulbs from Philips Hue, se picture below.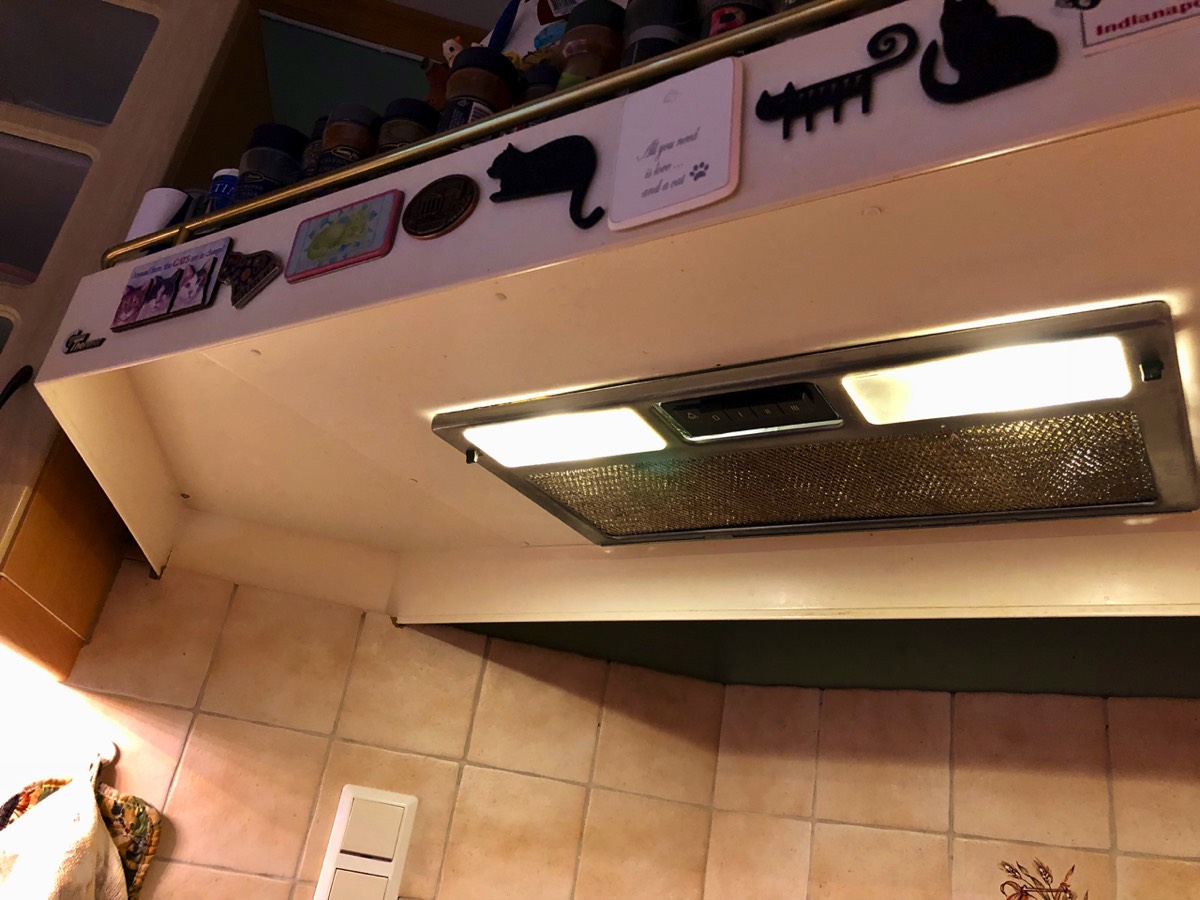 Ventilator lights where it was easy to replace the bulbs with smart ones
It got way more complicated for light sources where we had old-fashioned fluorescent tubes. This was the case for ceiling lights, in the form of a fixture with two such tubes (controlled by a wall switch) and two lighting fixtures underneath cabinets above the worktop, which we really wanted to control by timer. Also these were turned on/off using (separate) wall switches, with the added complexity that both fixtures have a power outlet used to connect various gadgets scattered across the worktop. Solutions investigated were:
Replacing the wall switches for the fixtures with either smart switches or using a Fibaro Single Switch behind the original switches, but with old T8 fluorescent tubes, the start-up load would be too large for this to work.

I considered replacing the T8 tubes with T5 LED tubes, which would be suitable for a smart switch/relay, but this would still leave the power outlets in the fixtures without power when the lights were turned off. Since we have devices connected to these outlets that should be on even with the lights off, this was not an ideal solution.

The solution we ended up with, though more expensive than the ones mentioned above, has worked very well; we installed lightstrips from Philips Hue, se pictures below (while keeping the old fixtures, without tubes, so that the power outlets can be used). I was initially uncertain whether the amount of light would be too weak compared with the old fluorescents, but that was completely unfounded; in fact we only run the lightstrips at 80% brightness. An added benefit was achieved by installing three strips, which added light to a section of the worktop previously not illuminated.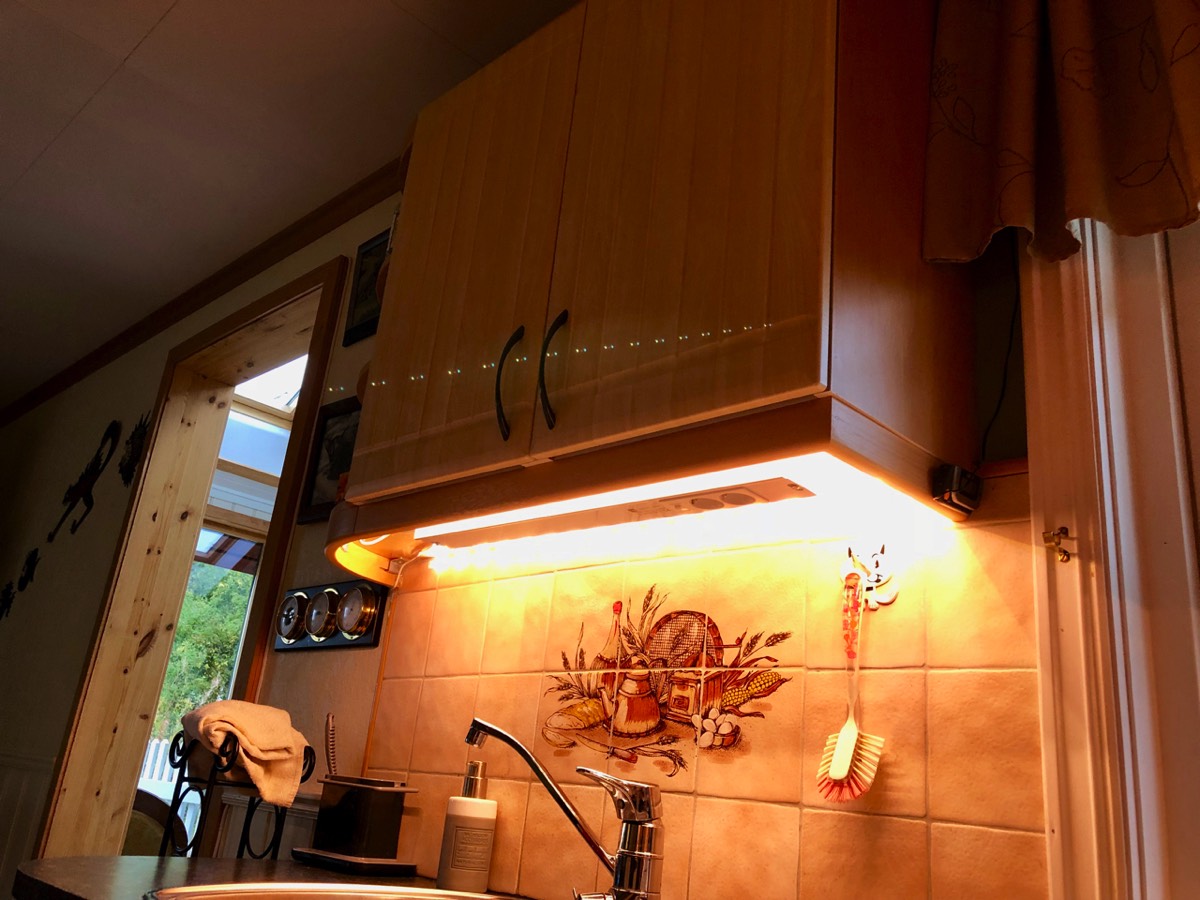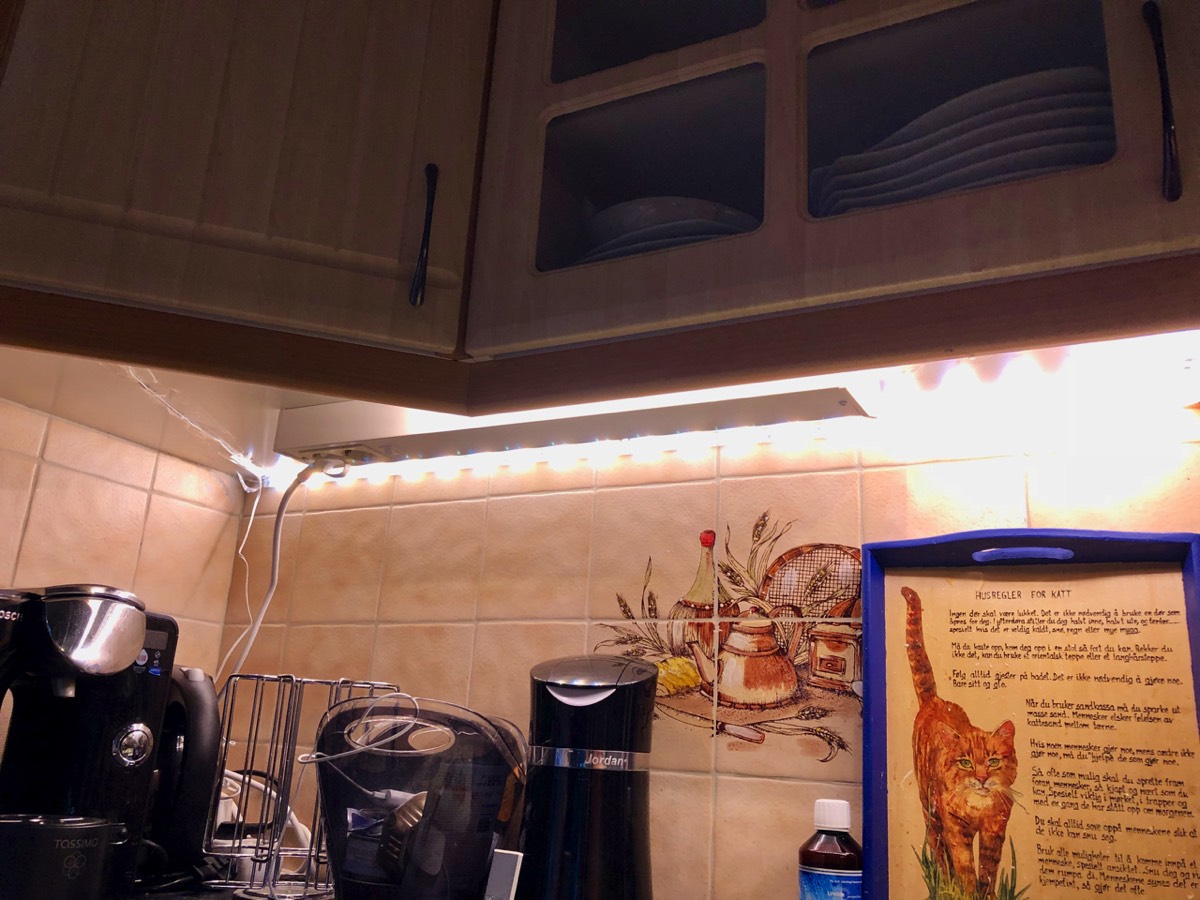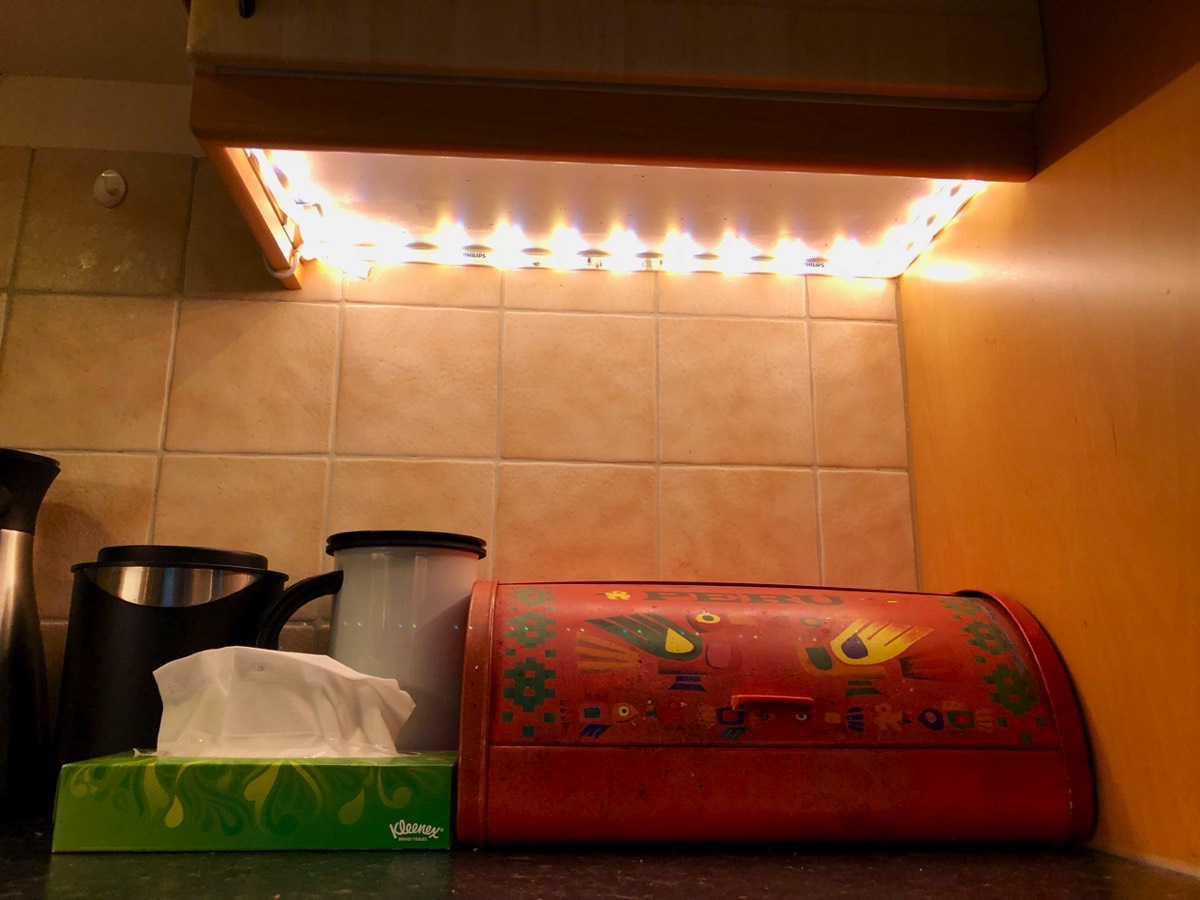 The three lightstrips installed underneath the kitchen cabinets. The strips 2 meters long which meant that in one place it didn't reach all the way around the underside of the cabinet, in another place it was just perfect, and in the last place it had to be cut a little
The ceiling lights were for a long time left as they were, partly since there would be limited benefits from making this smarter and partly due to a lack of feasible solutions. As mentioned, fluorescent are demanding due to their high start-up load and no smart switches were suited for such. Then I became aware of Aqara offering different versions of smart wall switches that can also handle this type of lights. So when these got HomeKit support through an update of the Aqara base station and we acquired an Athom Homey with support for both Aqara and HomeKit (in beta), we could finally proceed with a solution also here. Now, the fluorescent ceiling light is connected to one of the switches of a double Aqara wired wall switch, see picture below.
The other switch controls a ceiling lamp above the dining table, also shown in the picture below. Also this brings fairly limited benefits through automation, but since it was connected to the same existing wall switch, it "tagged along", first using an old-fashioned light bulb. Later, Philips Hue (and other manufacturers) launched great-looking filament bulbs, and since the bulb in this ceiling lamp was extra large, we were tempted by the Philips Hue bulb G93 filament bulb with E27 socket. A challenge was that even if the Aqara wall switch is a smart switch (so that it can be turned on from anywhere in the world, even if someone has turned it off physically on the wall), it cuts power to the lamp when off. A smart bulb in the lamp would then go offline and not being able to be controlled before the switch was again turned on. The solution has been to mount a wireless Aqara switch, which was left over, see picture below, next to the wired wall switch and use this to turn on/off the lamp over the dining table.
I should say, though, that in the beginning, having connected the switch via Homey, the control of the two switches was not optimal; partly both displayed as on or off even if one was on and the other off, and partly the left switch overrided the right one (when operated from an app) so that both turned on/off in tandem (while the right one could be operated independently). I have therefore installed (the fairly inexpensive) Aqara Hub, which fixed these problems (and was really the start of the acquisition of many later Aqara components).
Ceiling lamp above the dining table, with the old-fashioned bulb, and the ceiling fixture with fluorescent tubes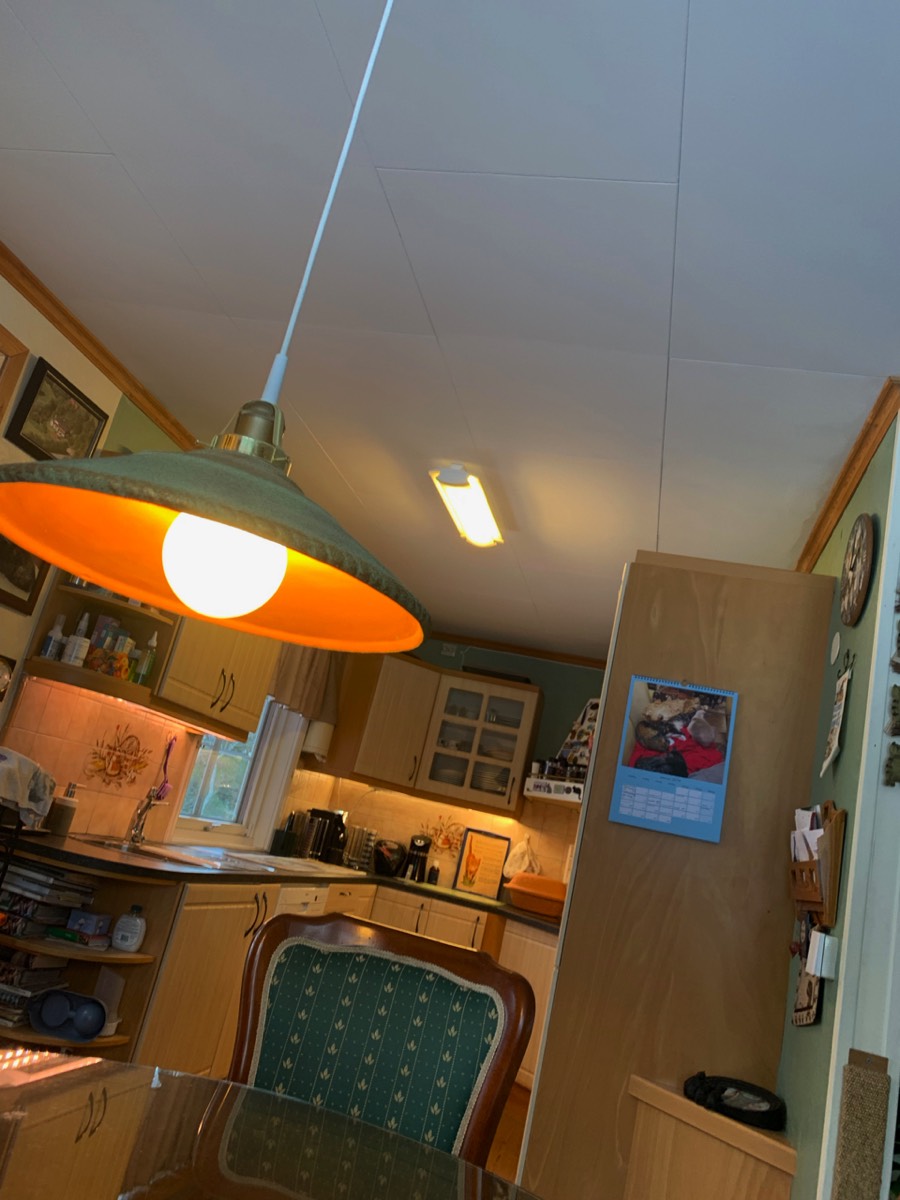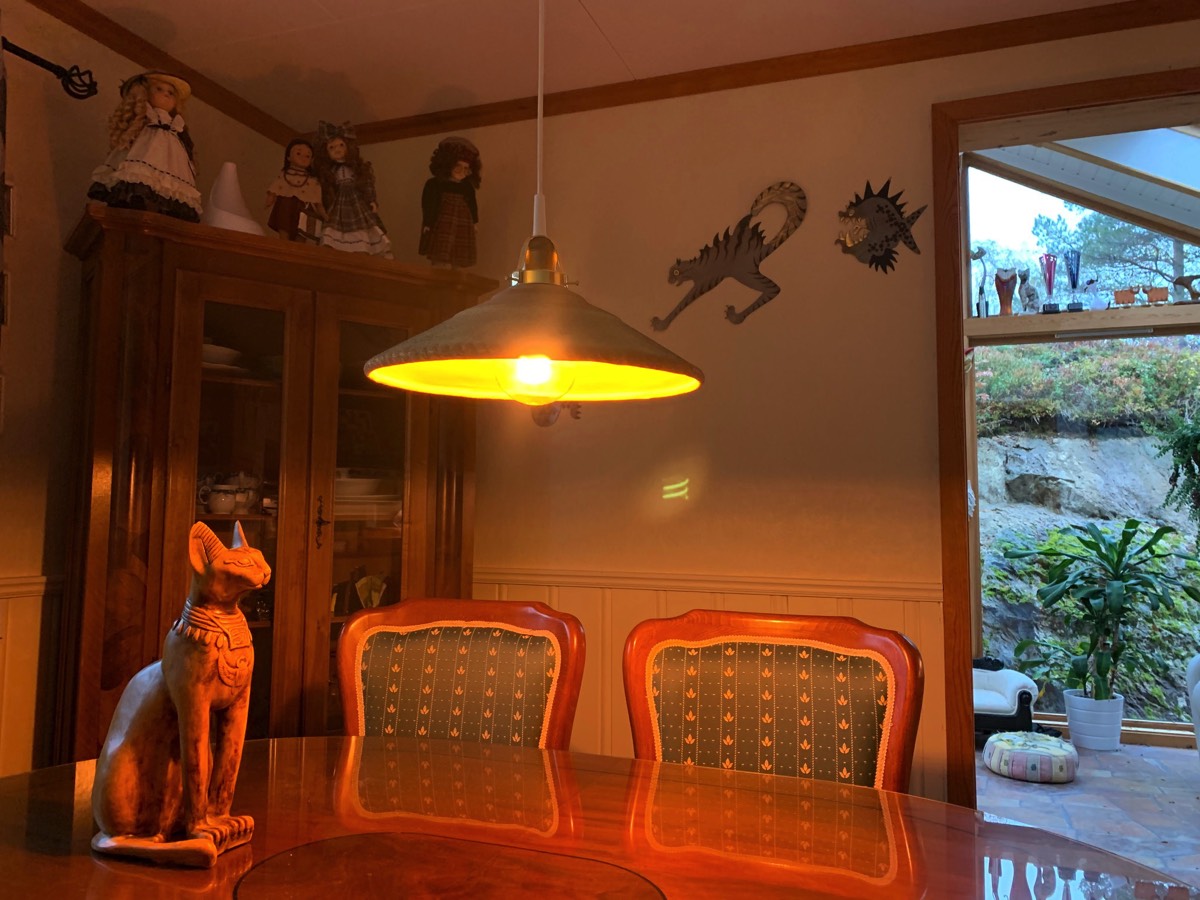 Dining table lamp with smart filament bulb (to the left) and wired and wireless Aqara wall switches that control the two lights (to the right)
The experiences with the light strips, both here in the kitchen and in the living room, were so positive that we have been considering other places they could be suitable. In the kitchen, one area stood out; on top of the kitchen cabinets, and this also gave us an opportunity to test a different type of light strip. After an update that gave HomeKit support during the summer of 2019, Yeelight's Aurora Lightstrip Plus with colors is probably the most affordable light strip available. Two such were installed on top of the cabinets, see pictures below, and give a soft and discrete light to the otherwise rather gloomy area underneath the ceiling.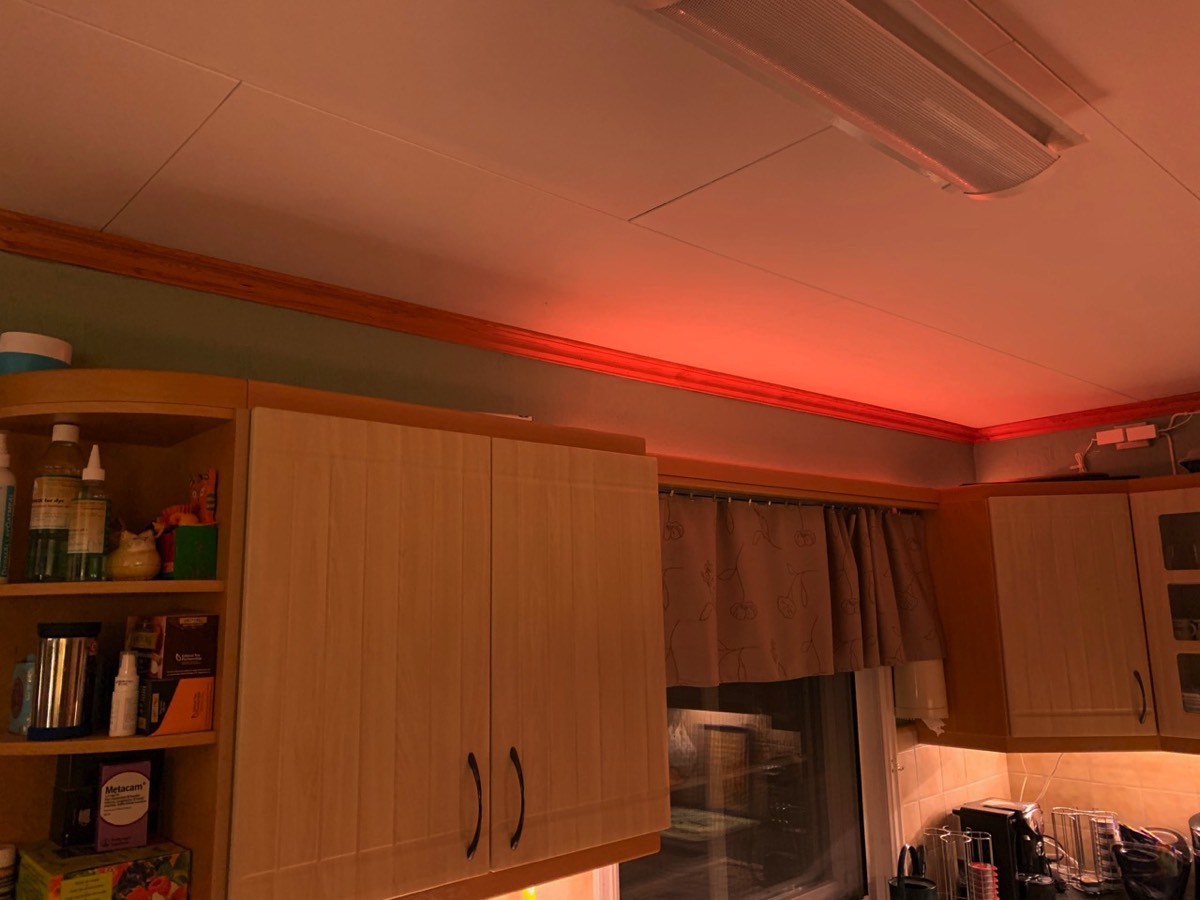 The Yeelight light strips installed on top of the kitchen cabinets (everything looks a bit red in the pictures, but this is the camera being fooled)
Unfortunately, the Yeelight light strips have proven troublesome, it normally takes only 2-3 days between one or both loses network connection. Sometimes they will be completely unavailable, sometimes they can be reached from the Yeelight or Mi Home apps, but not in HomeKit. It is easy to fix by disconnecting them from power so that they reboot, but this is cumbersome as it requires climbing up on the worktop to reach them. We therefore first installed an IKEA Trådfri control outlet between the power outlet and the light strips, but it amounted to a little "tower" since it also required a splitter to fit both light strips. So partly to avoid this and partly to test a new type of component, a Fibaro Walli Outlet smart power outlet was installed, see picture below. This gave a more elegant solution, even if it still sticks a bit out from the wall, and it allows rebooting them by turning off/on again the smart outlet.
Fibaro smart outlet installed to allow rebooting the light strips without having to climb up to reach the power outlet
The smart outlet is a somewhat intriguing product; instead of a smart plug that is plugged into an existing wall outlet, it provides a built-in outlet that can be remotely controlled. Like the other Walli components, it looks good, with a LED ring indicating whether it is on or off (as well as other status indications). It is natively not compatible with HomeKit, but since it is based on Z-Wave, it can be connected to Homey, and from there on to HomeKit via HomeyKit. The only disadvantage is that if there previously was a double outlet in the wall recess, you will now end up with one single outlet. To control the light strips, this was no issue, but especially older houses rarely have too many outlets, so this could be a problem.
The lightstrips under and above the cabinets respectively are grouped together in the Home app so that they turn on/off at the same time and, together with ventilator lights and lamp above the dining table, they are programmed to turn on with the "Good Morning" scene and off at night with "Good Night", see screenshot at the bottom. We could of course have used a motion sensor to allow the lights to turn off when we are not in the kitchen, but with an open floor plan with the kitchen and living room being integrated, we decided it would look dark and gloomy in the kitchen that way. Equally, the two strips on top of the cabinets have been grouped together, but these turn on later with the "Evening Lights" scene, and all go off with "Good Night".
IKEA offers a lot of lighting producs, most of which are not part of the Trådfri smart lights line, but which still have some "smarts". In the two largest and most often used kitchen cabinet drawers, we have installed two IKEA Omlopp LED lights with built-in motion sensor in drawers, two of a newer model, MittLED, in two cabinets, and one Skydrag in another cabinet, see pictures below. These are easy to install if the body of the drawer section is of standard width and they work very well by turning on when the drawer or door is opened and off again when it is closed. These can be connected to power using either a "non-smart" transformer, which is the case for three of these, or a Trådfri Driver, which also integrates them into HomeKit, which one of these uses.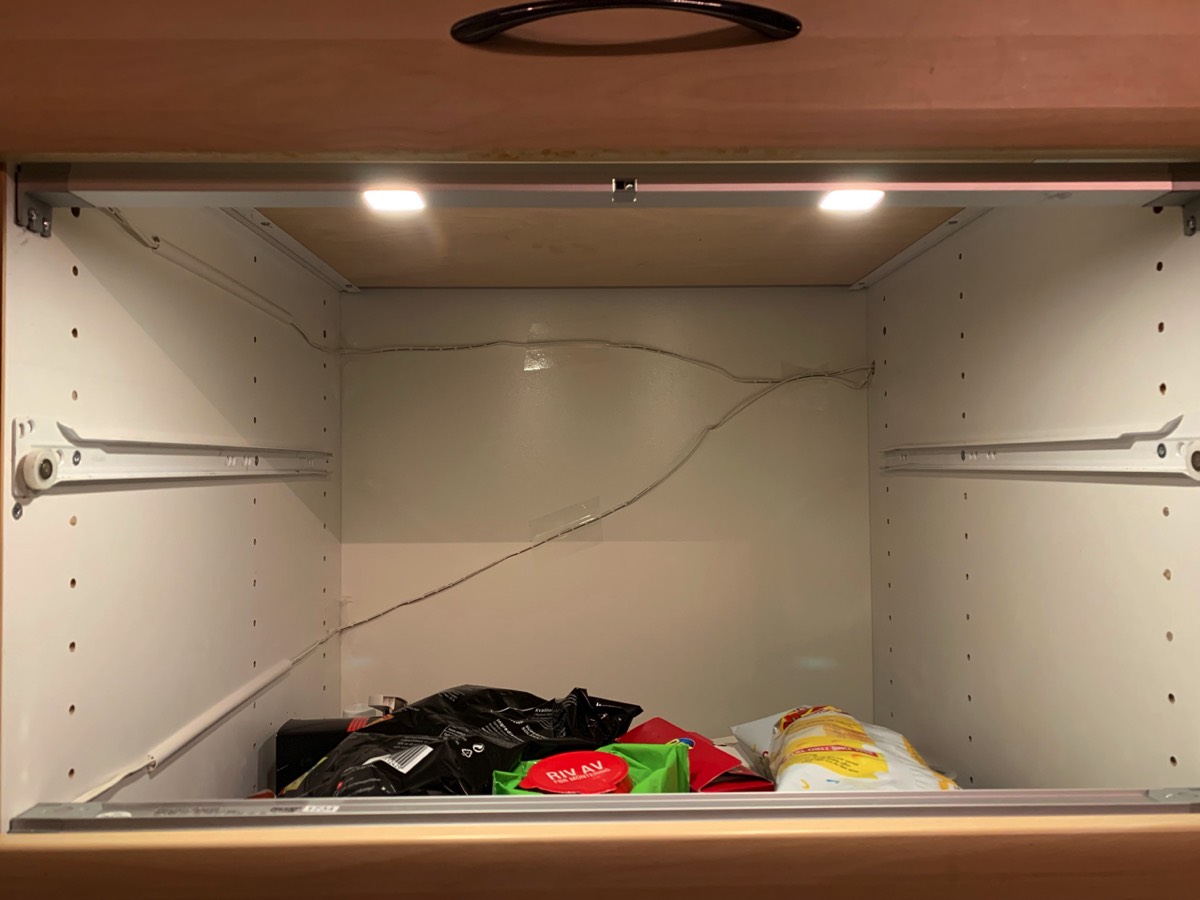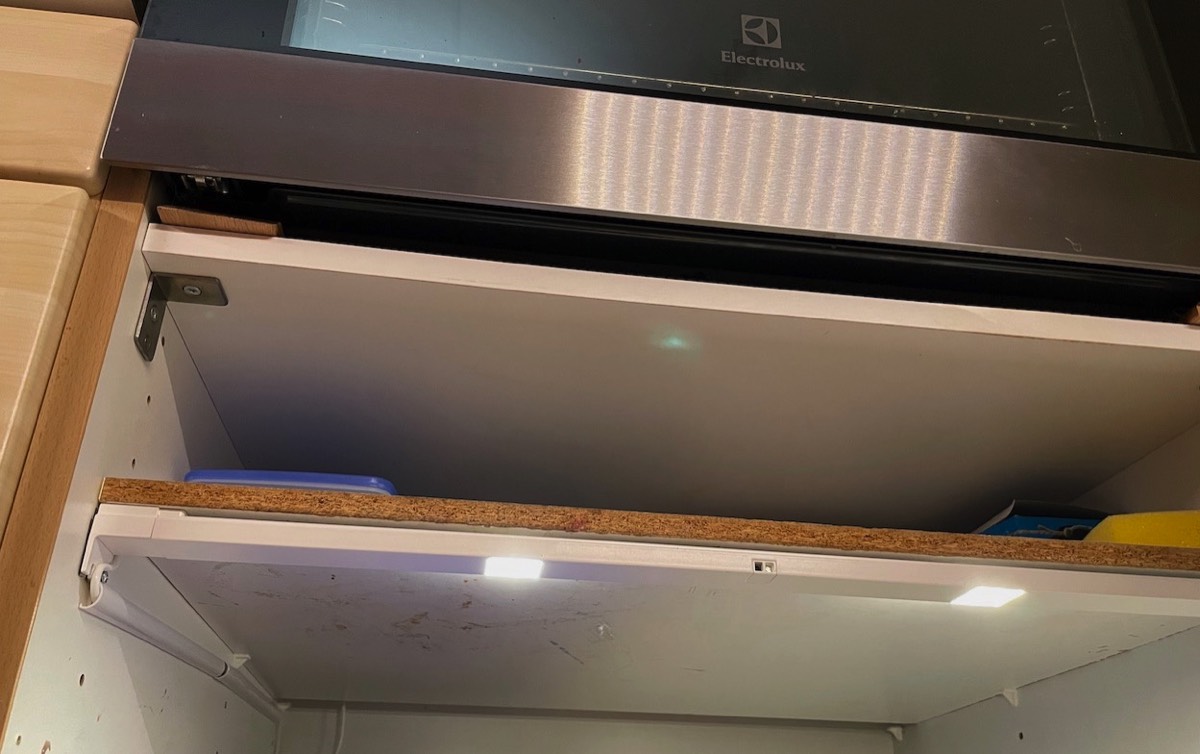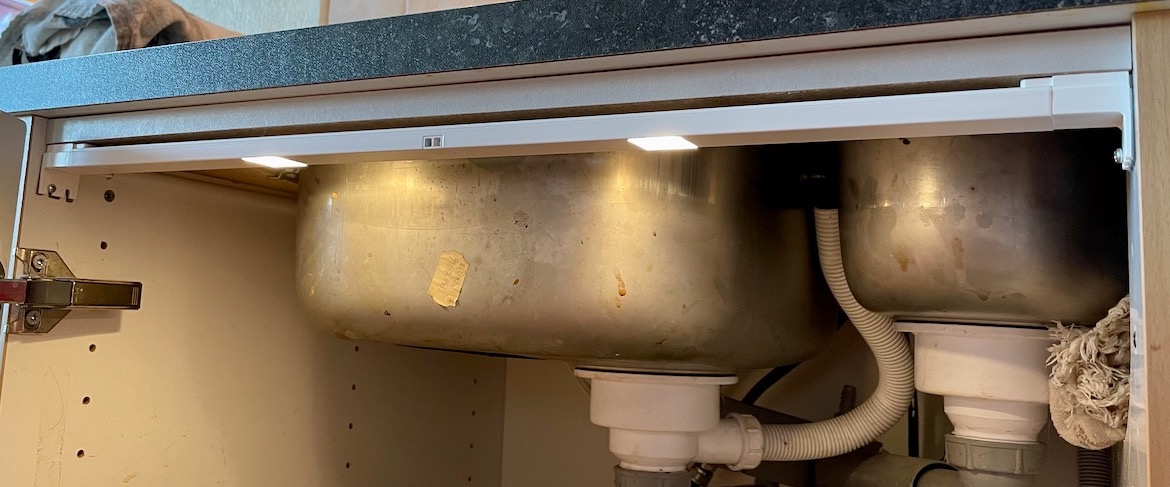 Omlopp drawer lights og MittLED cabinet lights
In addition, we have installed two lightstrips and one light panel powered by batteries in kitchen cabinets where the inner area gets a little dark. These are motion controlled so they turn on when opening the door and work well, though it can be a bit cumbersome to replace the batteries inside the cabinet.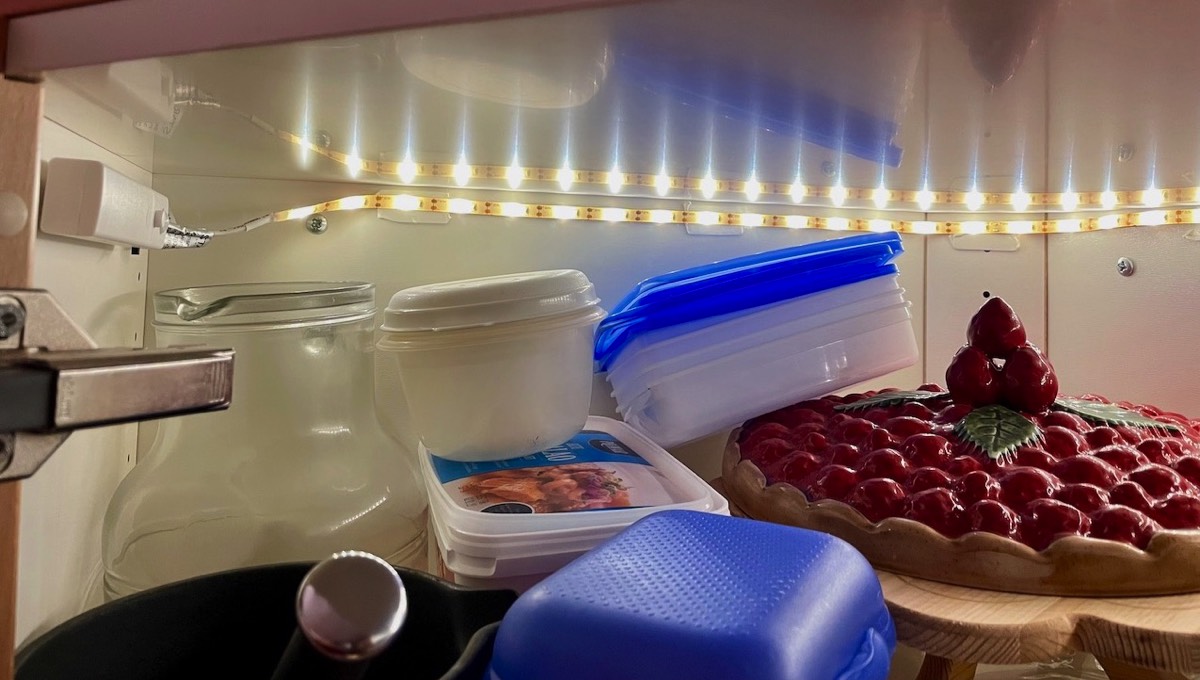 Lightstrips/light panel in a kitchen cabinets
The window sensor from Fibaro has as its primary function to be part of the programming of the living room heat pump. Together with door sensors in the living room and the library, this has been set up so that the heat pump turns off when the window or one of the doors are opened. I had originally installed this sensor on the door of the outdoor shed, but the distance was too great for the bluetooth connection to work well and it would often lose contact. In the kitchen, it has worked perfectly, and it also provides temperature measurements, see screenshot below.
The presentation of the window sensor in the Fibaro app
Smart pet feeders are arguably more for those with a special interest in such things, but the kitchen sports four such from SureFeed. We have several cats who require different types of food and it is not easy to control who gets what by other means. These feeders respons to the microchip that each cat has been injected with and will open only for the right cat. They are not online in any way and as such not very smart, but they work perfectly for our needs!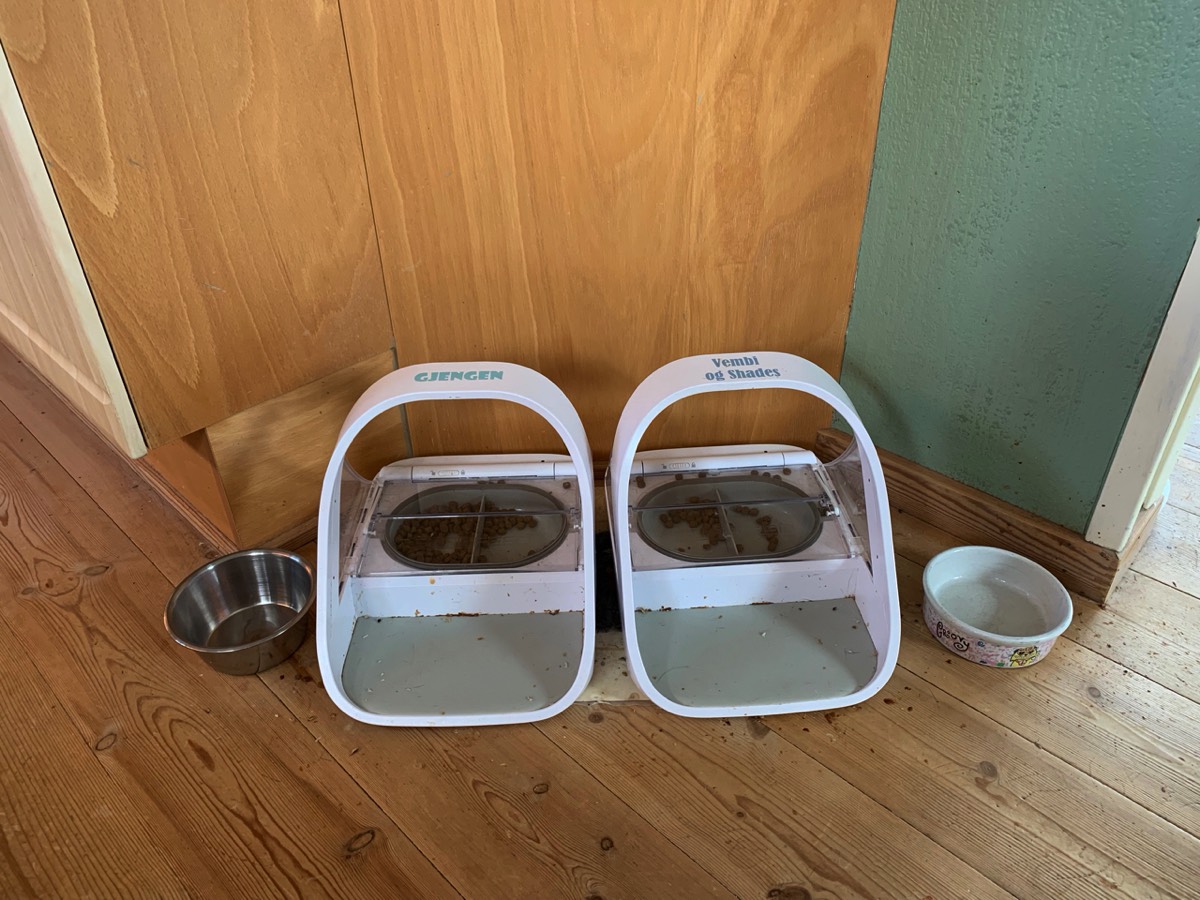 For a long time, we had a "non-smart" dishwasher, but when this packed it in after fifteen years of service, we naturally chose a smart version. We landed on a Bosch machine with its Home Connect solution for app control, with alternatives in the form of a plugin for Homebridge and an app for Homey. These alternatives do work in that they show the status of programs/door and one can start/stop programs, but we have found that in practice we either use the physical buttons on the machine or the Home Connect app. The most useful feature of having an online dishwasher is the ability to see remotely how much time remains before the current program is done.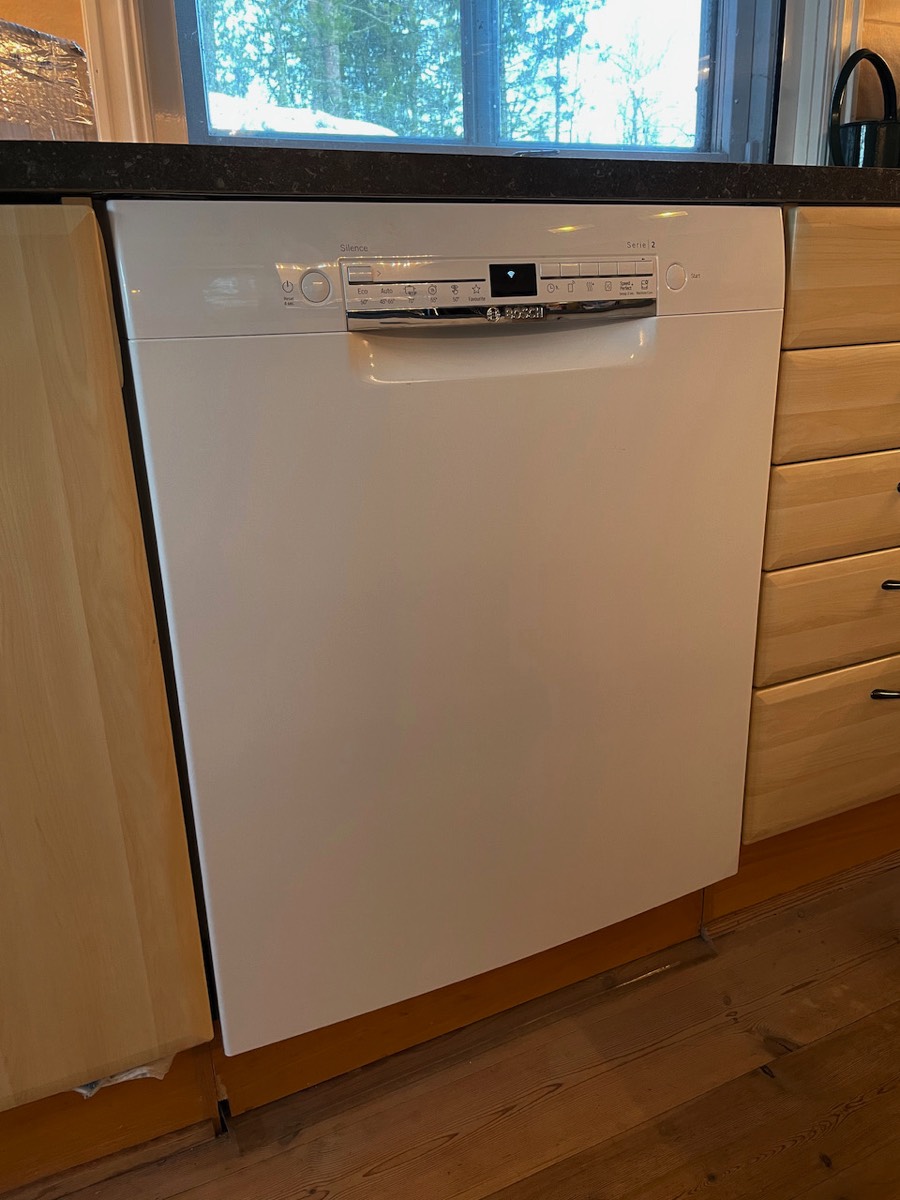 Bosch dishwasher with Home Connect
The devices in the kitchen (notice that when two or more light sources are grouped, they appear in the Home app as one unit turned on/off simultaneously )