On this page, I present the actual solutions installed in guest room 2 of our smart home, with links to specific products used and how these have been set up
This room contains solutions for the following systems (notice that on phones, the table might only be displayed in landscape mode):
Description of the solutions in this room
This room only serves as a guest room and has only basic lighting solutions. A ceiling lamp is the main light source, and here the old bulb has been replaced by an IKEA Trådfri E27 smart bulb, which is controlled by an IKEA Trådfri motion sensor, which has simply been put on top of a mirror, thus facing the door, see picture below.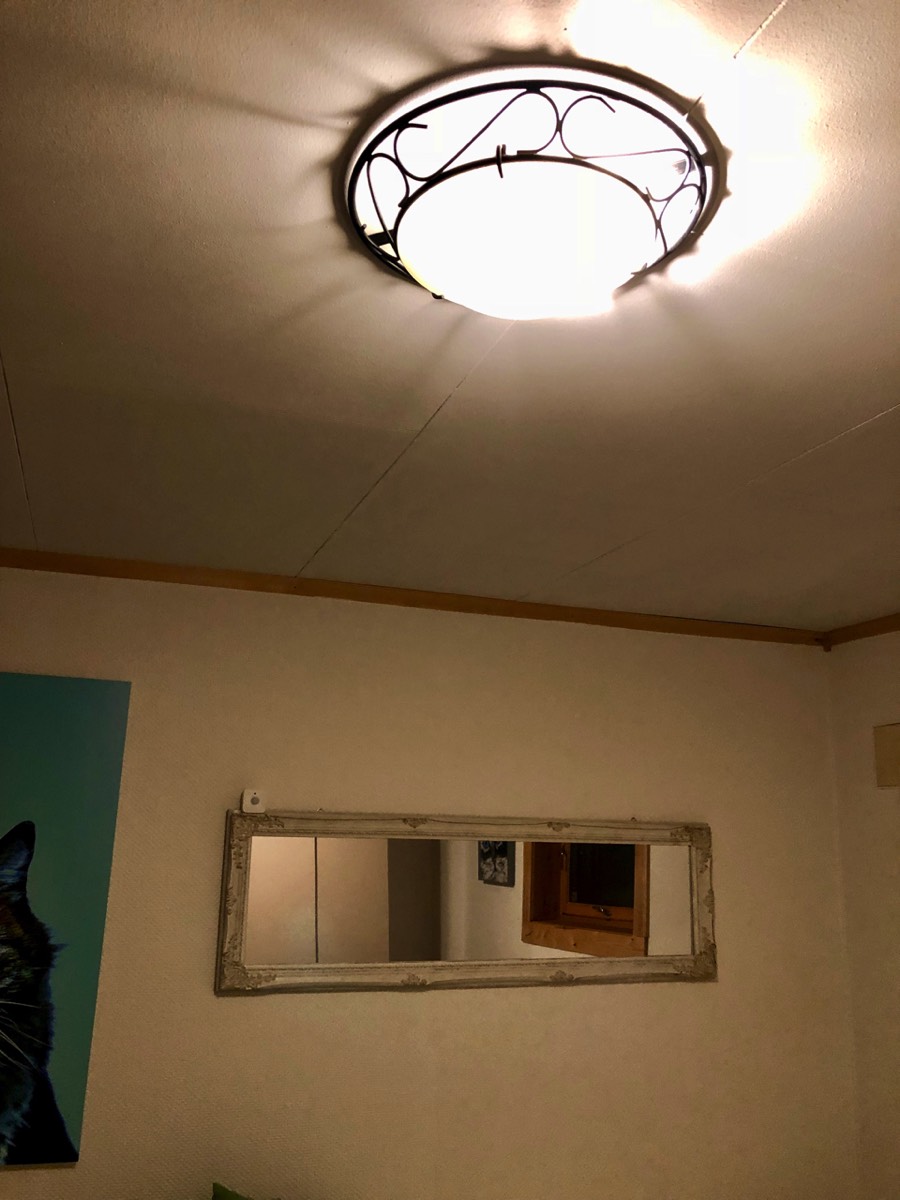 Ceiling lamp and motion sensor (the picture on the light shows a Philips Hue motion sensor, not the IKEA version, since components have been moved around the house)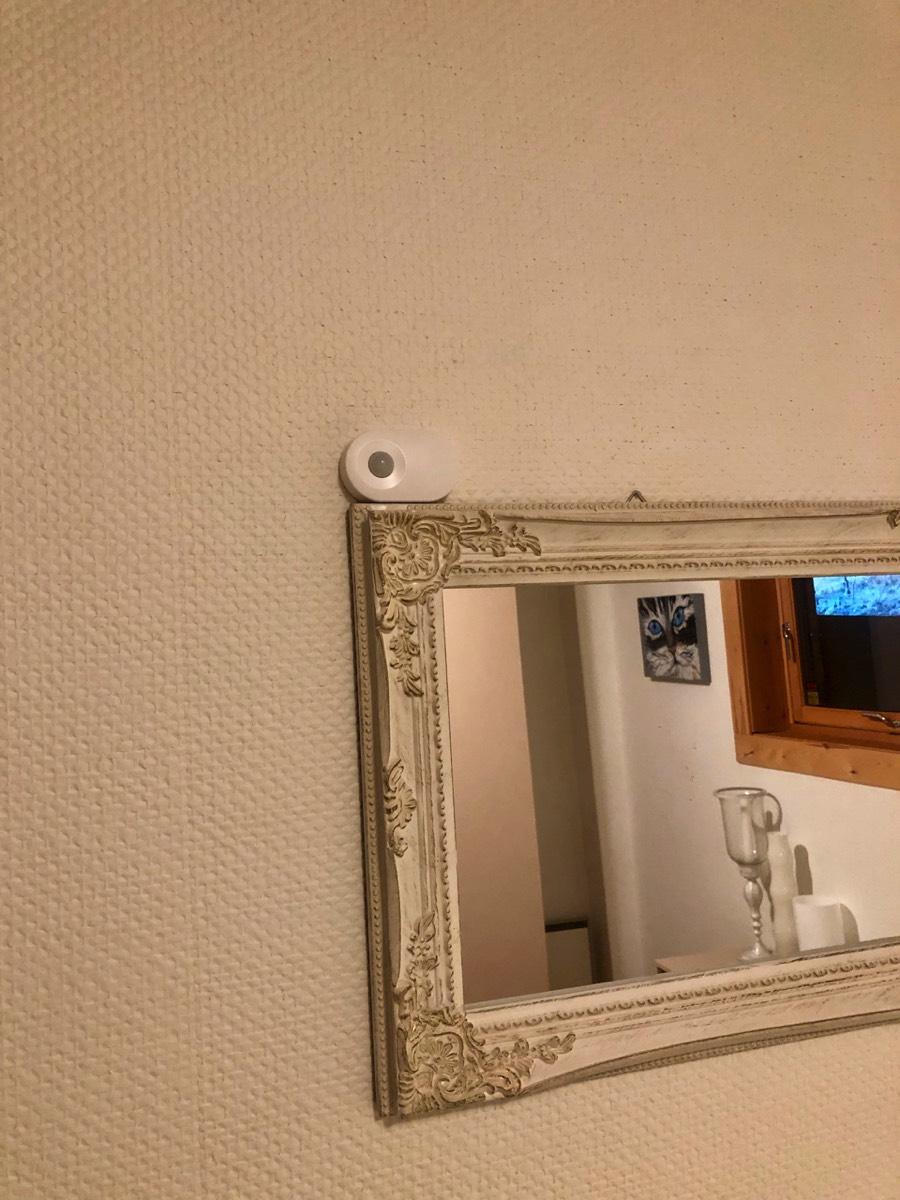 The programming of the ceiling lamp is very simple; on at motion and off again after about 5 minutes (for the IKEA Trådfri motion sensor, this is not set in any app, but rather with a dial on the sensor itself).
This is, however, an example of a setup that has potential for problems. No matter where in the house smart lights have been implemented by the way of smart light bulbs, they are vulnerable to someone turning off the physical wall switch and thus cutting the power to the bulb. This naturally causes the bulb to go offline so that it can no longer be controlled. The permanent members of a household are probably not that likely to turn off switches, but guests are typically more inclined to do so, and since this is a guest room it would happen fairly often. This has now been solved by replacing the old wall switch by a smart version from Aqara, see picture below. The old switch had been installed "on the outside" of the wall, not in a wall box, so this was easily replaceable by the Aqara switch, placed inside an external wall box. This now works excellently, the wall switch is basically always on, so that the motion sensor control of the smart bulb works as it should. But now guests can turn off the ceiling light at night (or day for that matter) and we don't have to check whether the switch is on after they have left.
The Aqara switch that controls the ceiling light and at the same time ensures that this light always is connected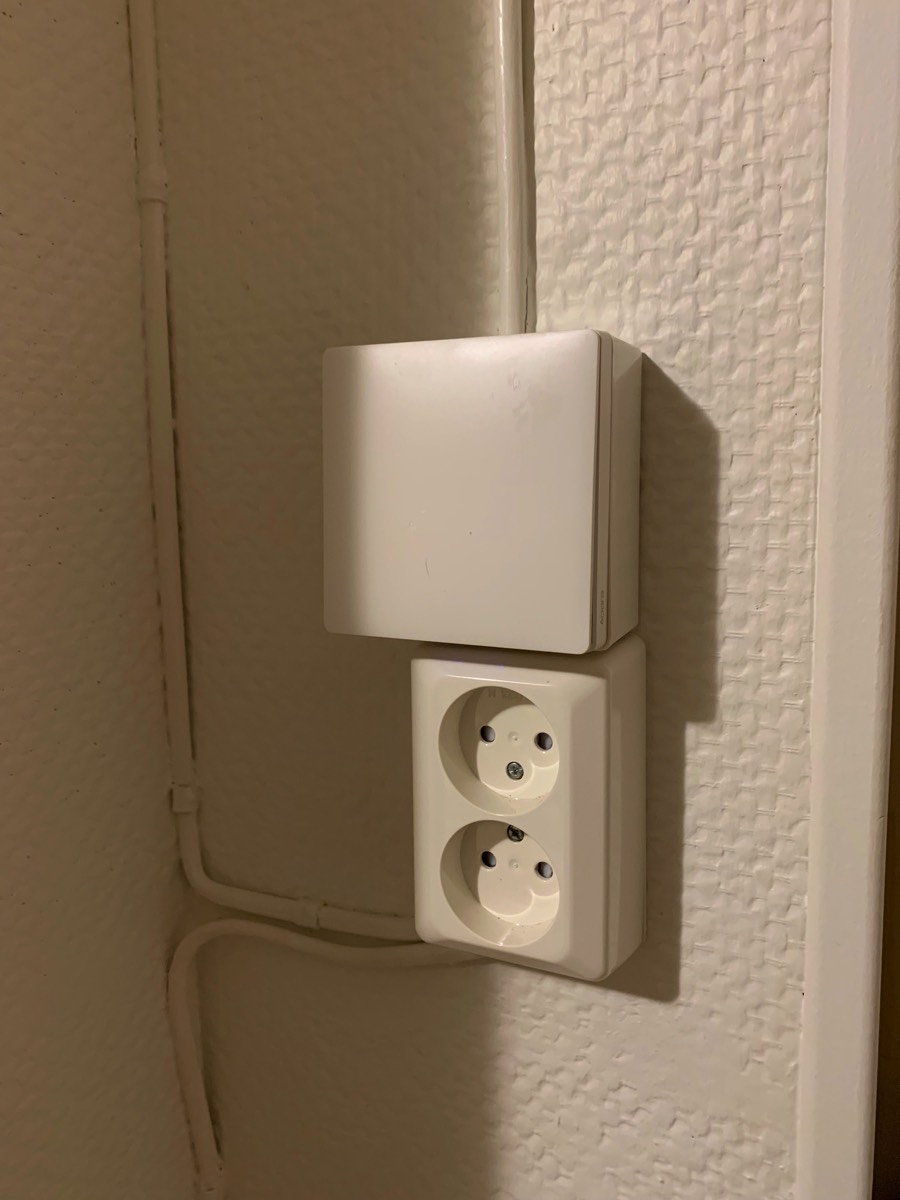 By the bed, there is a reading lamp, that for a long time only a traditional bulb, but in the end also this was replaced by a smart bulb, an IKEA Trådfri E14 smart bulb (this does not seem to be available any longer on English-language pages), partly because it was one of a very few light sources in the house still not «on line» and partly because the switch on the lamp cord is a little hard to find. Now this lamp is controlled by an IKEA Trådfri wireless switch, placed on the night stand, see picture below.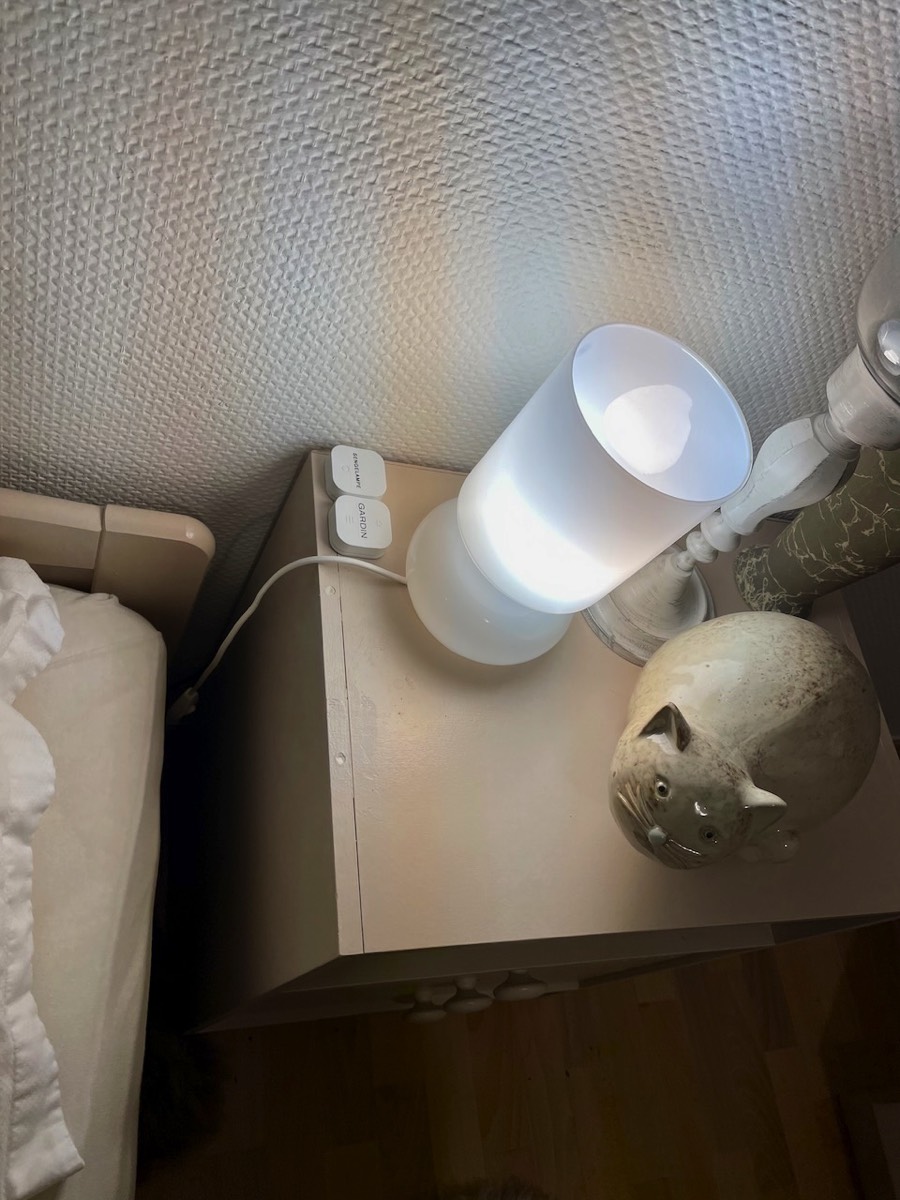 Bedside lamp and switch (as well as remote for blinds)
This switch works as other control devices from Trådfri, by only being possible to program in the IKEA app by assigning light source(s) to the switch.
In addition, in the clothes cabinet, we have installed a small LED light panel, which is not online in any way, but with a built-in motion sensor, see picture below. It is powered by batteries and works perfectly well, but with much traffic in the cabinet, the batteries must be changed quite often.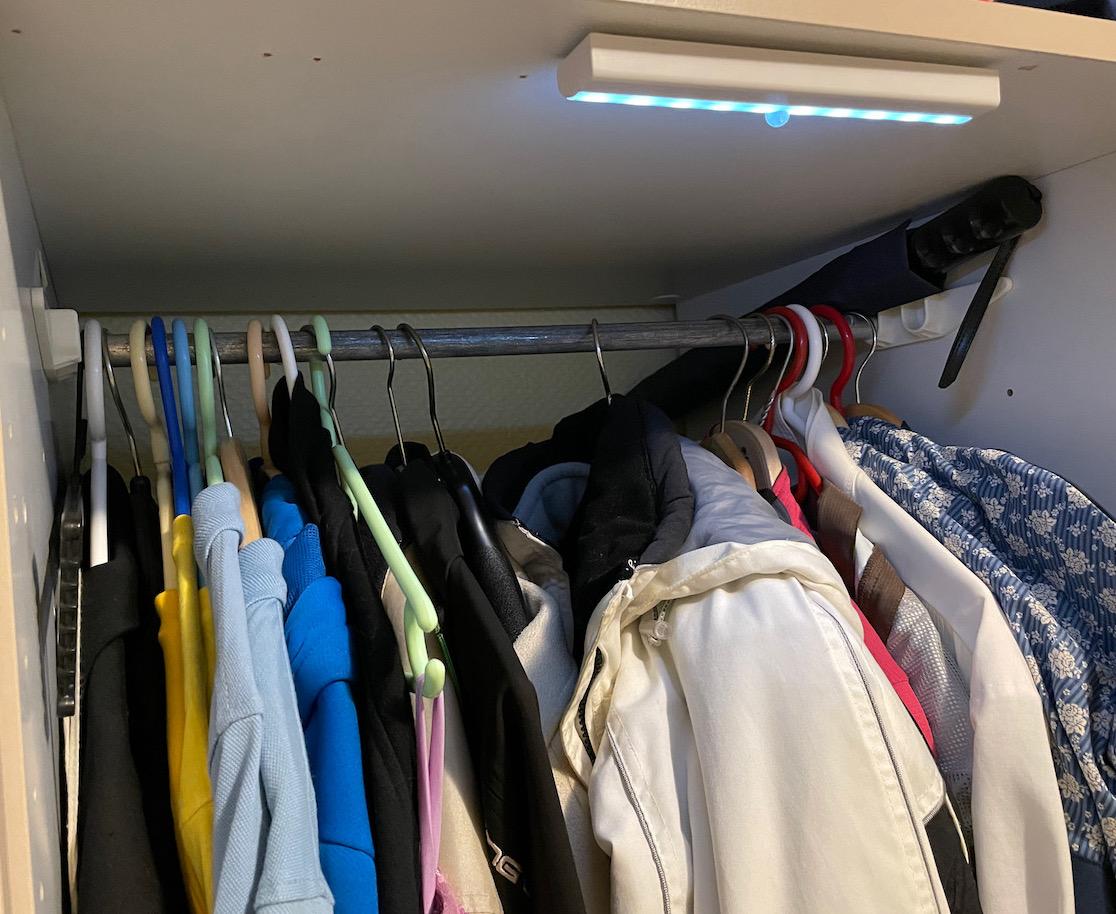 Non-smart LED light panel in the clothes cabinet
In this guest room, there is a small, old-fashioned electric panel heater, but since this room is very rarely used, the heater is normally not even plugged into power. This, however, means that should the need for turning it on occur, we must first plug it in and then manually setting the desired temperature, something which cannot certainly not be done without being physically present in the house. But since the room is in little use and since there have not existed any good solutions for making such a heater smarter, this has not been a priority. Then in the winter of 2020 I discovered that a Mill WiFi Socket had been launched, which I installed in guest room 1. See more detailed descriptions of this product in the presentation of that room, but it is basically a smart plug with an integrated thermostat. Since this works well, such a device was also installed in this room, see picture below.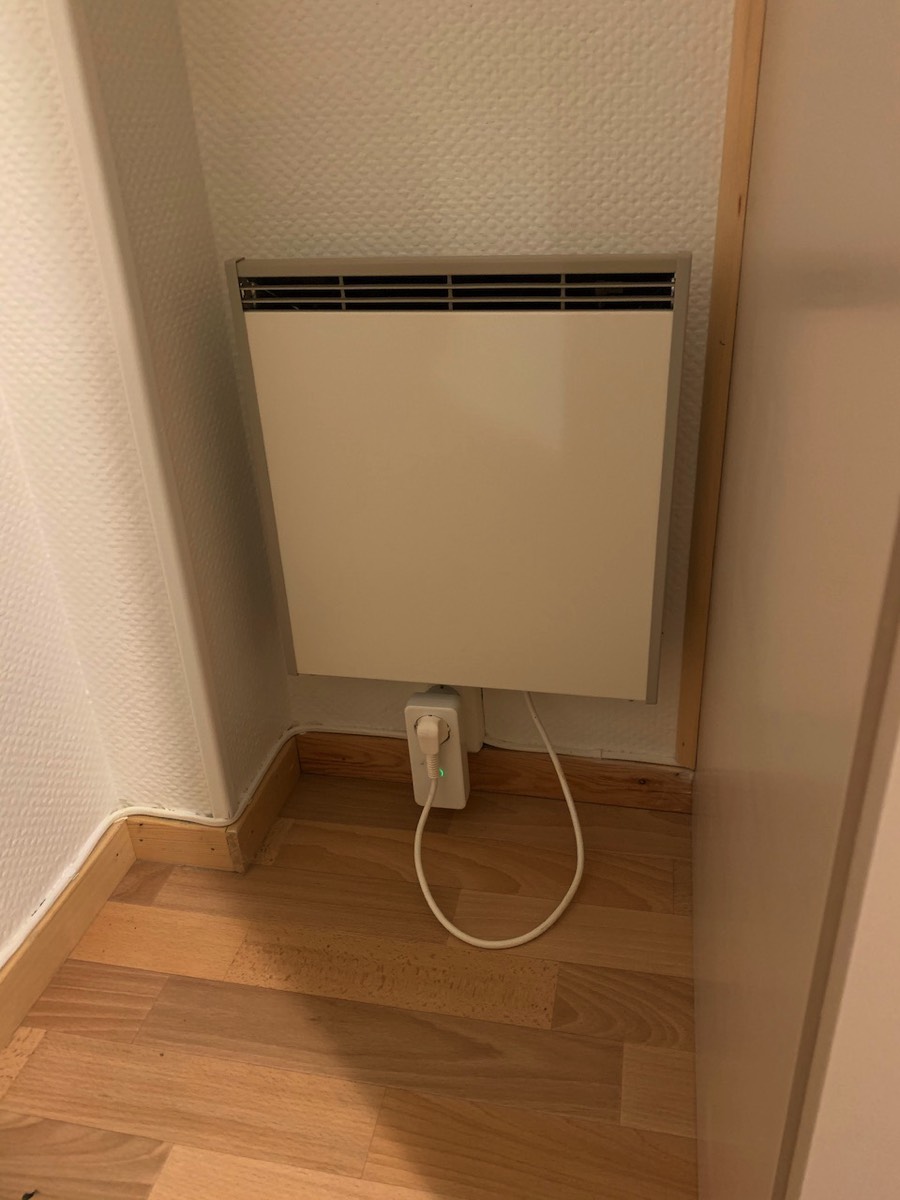 Panel heater connected to Mill smart plug
As in the office, where we also have an electric panel heater, we wanted a solution where the heater would turn off if the window was opened for airing. The idea is of course to avoid using unnecessary energy by having the heater trying to compensate for the cooler air from the window, and this has been solved using an Aqara window sensor, see picture below. Since controlling the heater does not fully work in HomeKit, this had to be programmed in Homey, and the window sensor is therefore also connected to Homey rather than the Aqara hub. This has been programmed using two simple "flows" (as routines in Homey are called), where open window turns the smart plug off and closing it puts it back into the automatic program mode.
Aqara window sensor, see in the upper left corner of the window, controls the heater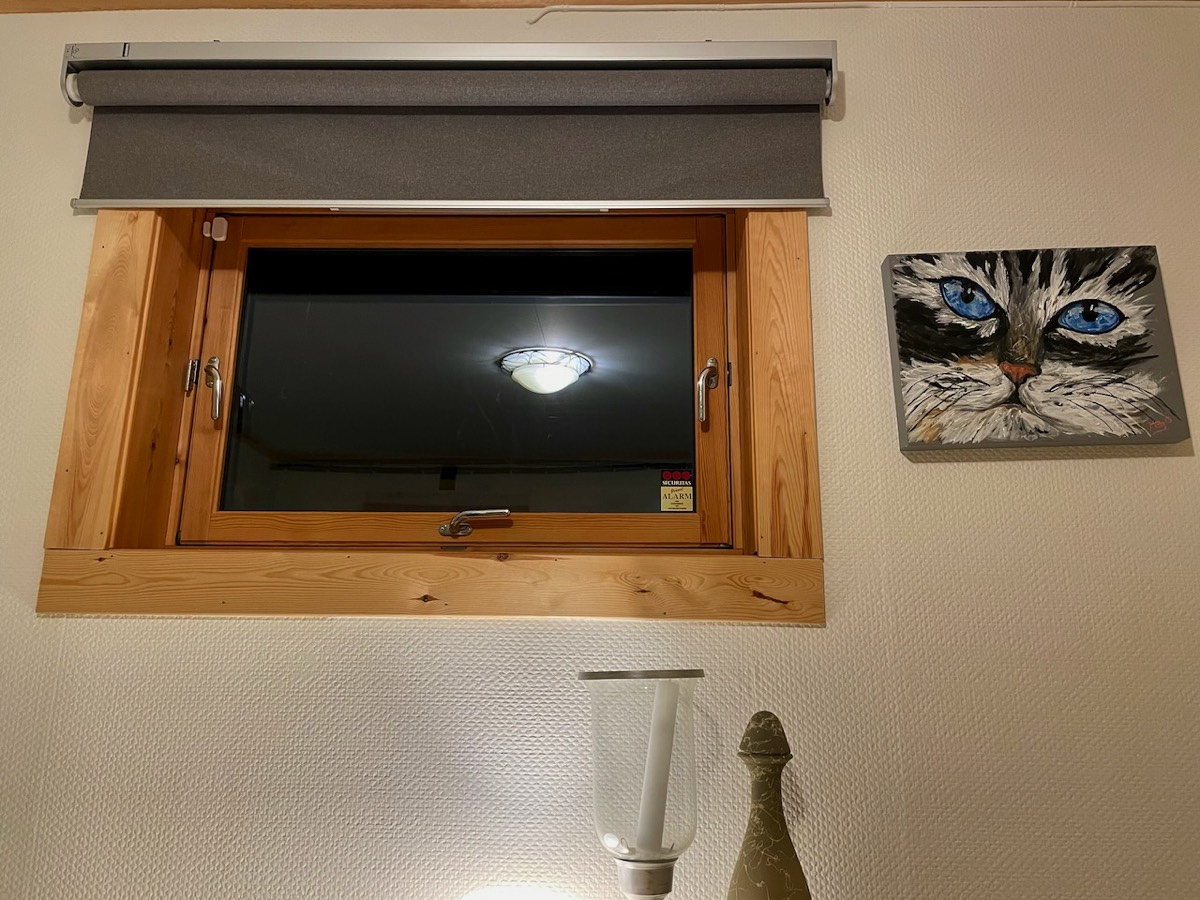 Also here, the heater, via the smart plug, is connected to the dedicated Mill app, Homey, and plugin for Homebridge for Mill. And just like in guest room 1, a Philips Hue dimmer switch has been installed to allow guests to control the temperature, see screenshot below, see more about this solution in the other guest room.
Hue dimmer placed on the bedside table and close to the heater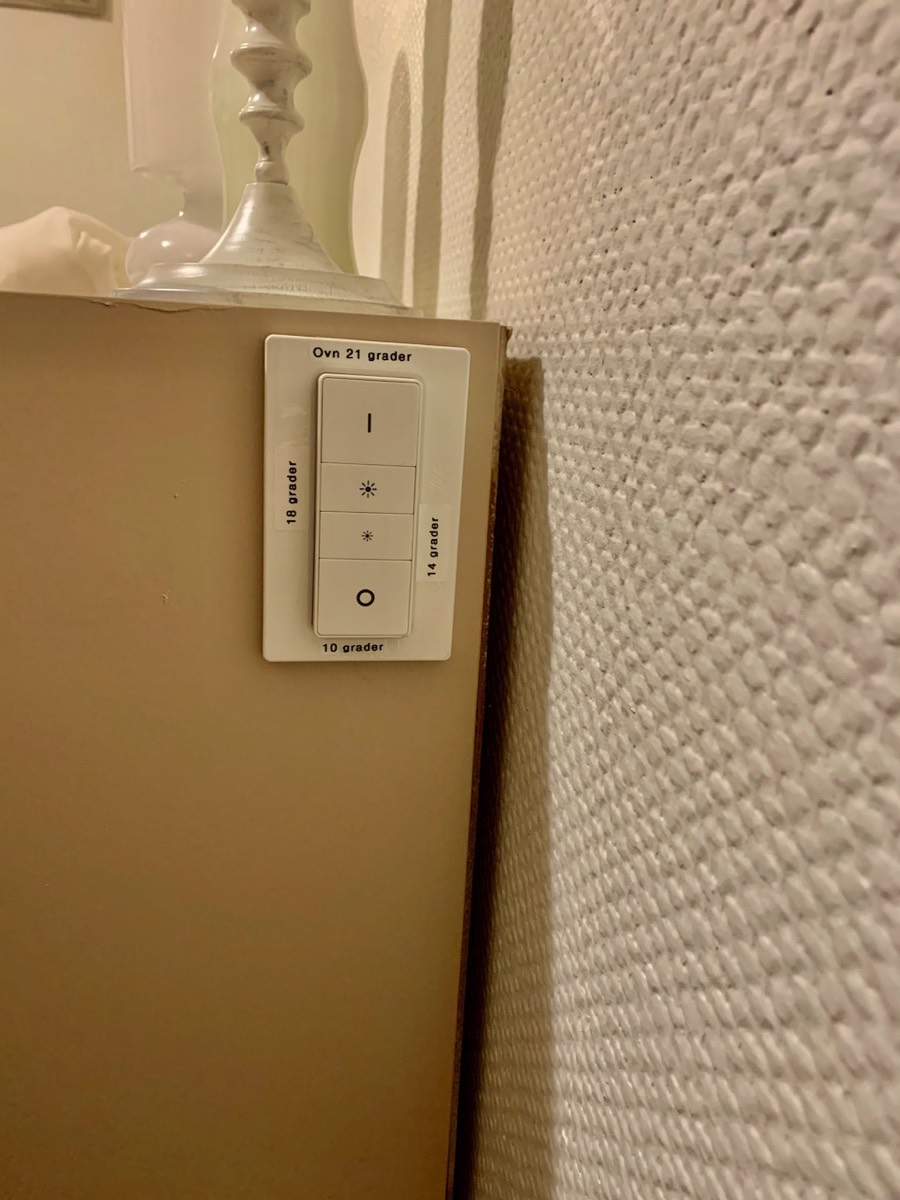 Even if this room is on the ground floor and only has a small window, it is useful to be able to shut out outside light when someone is sleeping here. We therefore have an IKEA Fyrtur blind here, as shown in the picture above. It is controlled by a remote control shown further up the page.
Altogether, this gives the room view of this room in the Home app as shown below.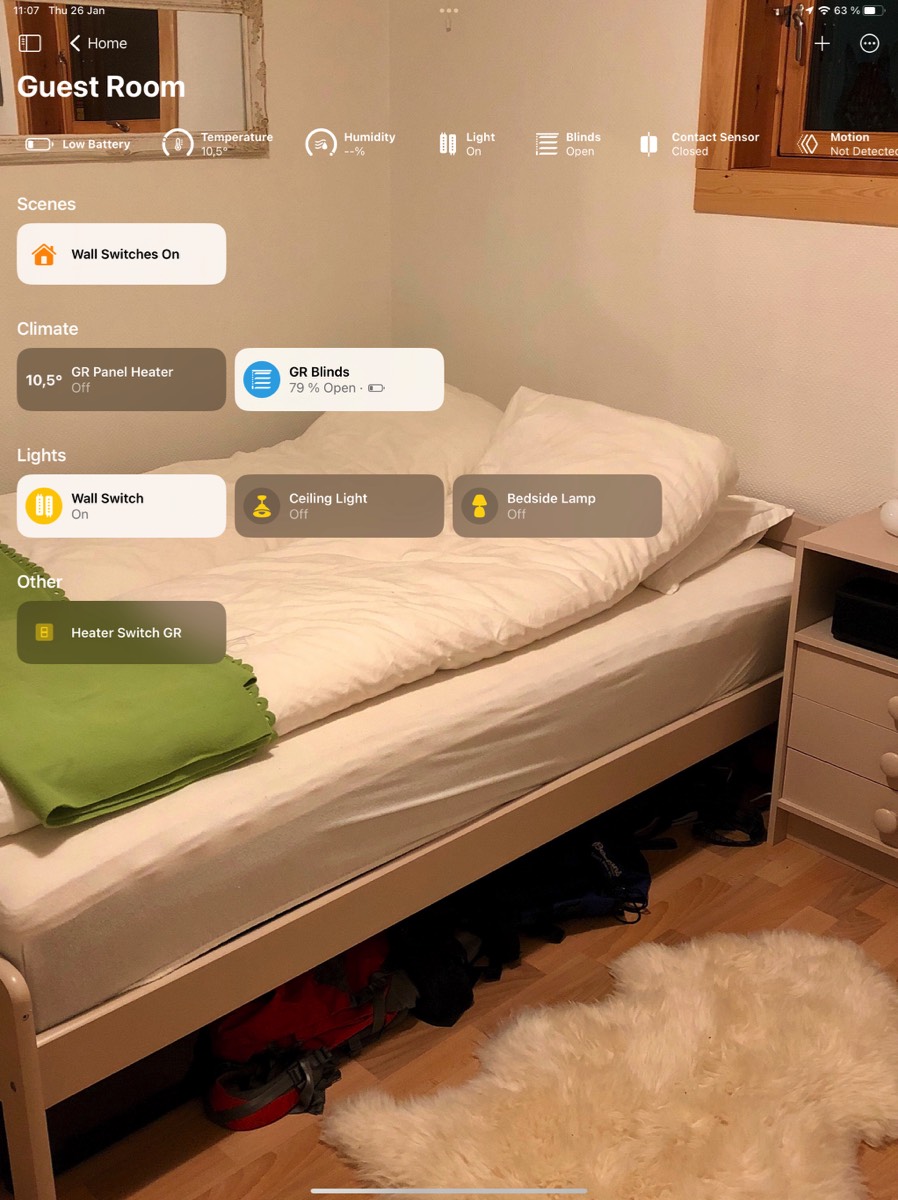 Room view for the guest room