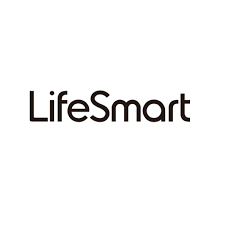 Selected products from this vendor are presented on this page, with my assessments where I have personal experiences to share. The links are primarily directed to the vendor's own pages, in English; for local pages/prices you will have to conduct your own search.
About the vendor and its products
LifeSmart is a Chinese company. A number of smart home products are offered, some of these can be used as stand-alone devices, while many require having a LifeSmart Smart Station base station. Relevant products are:
Base station, LifeSmart Smart Station, which uses 433MHz for communication with connected devices, a pro version, which offers higher range and power, and even a Smart Station MINI, which also doubles as an alarm siren

Another control device, Spot, which is a little unclear to me in terms of its function, the site says it can replace a traditional home entertainment system remote control and together with the base station also communicate with climate control units and other devices that communicate via infrared

And another quite unique control device, a Magic Mirror with touch/voice control of connected devices

A smart (wireless) button called CUBE Clicker

Smart bulb, BLEND Light Bulb, with E27 socket, which also comes in a bluetooth version, that does not require the base station

Smart light strip, BLEND Light Strip, with millions of colors and which can be shortened

Smart plugs, one for different types of plugs and one in an EU version, as well as one meant for replacement of a wall power outlet, Smart Plug (In-wall)

A motion sensor, CUBE Motion Sensor, which together with the smart cameras mentioned below can be programmed to take a picture when motion is detected, and the sensor also comes in a version that used AAA batteries

A human presence sensor, Human Presence Sensor, which also detects people who are not moving

A smart light source, Cololight, consisting of separate tiles which can be assembled in different ways

Several types of smart light switches; a Dimmer & Motion Sensor Switch, which combines a switch and motion sensor, a Stellar Switch, which is said to eliminate the flicker when a traditional single live line switch is connected to a low power light bulb, a three gang wired Blend Light Switch, which also has indicator lights, a switch called 120 Smart Light Switch, which is a touch-based switch, and a product called CUBE Switch Module, which from the limited information provided I believe is a smart relay meant for installation behind an existing light switch

For climate control, there are two types of smart thermostats, one Smart Underfloor Thermostat, for underfloor heating, and a Smart Fan Coil Thermostat for central heating systems

There are several types of environmental sensors, a CUBE Environmental Sensor, which measures a number of parameters, a more advanced environmental sensor, Environmental Sensor (CO₂+TVOC), that measures additional parameters, a Gas Sensor, and a Formaldehyde Sensor

Additional sensors for various usages; CUBE Door/Window Sensor, which in the same way as the motion sensor can control the cameras, and a Water Leak Sensor

Different types of surveillance cameras, an indoor Smart Home Wi-Fi Camera, an Outdoor Camera, and a versatile and portable camera called FRAME 360 Camera

Smart door locks, a Smart Door Lock (Classic) with fingerprint reader and a Video Smart Door Lock that doubles as a smart doorbell

A smart curtain controller, MINS Curtain Motor Controller, and with a smart (wired) switch for curtains called BLEND Curtain Controller
There is a dedicated LifeSmart app, which seems to have functions for advanced integration of the products. The base station, though, is compatible with HomeKit, previously using an unofficial beta solution, but from the fall of 2019 officially, thus allowing controlling the devices from the Home app. Some of the devices have support for Google Home, and there is an Alexa skill for LifeSmart (the site contains very little information about integrations with other ecosystems).
Notice that on phones, the table might only display in landscape mode
| Component | Room | Experiences |
| --- | --- | --- |
| GU5.4 smart bulb x 3 | | This is one of very few smart bulbs that exist with GU5.4 socket and thus fills a niche. They are not compatible with HomeKit, but can be integrated using Homebridge. This works reasonably well, but the color codes are not completely compatible between tuya and HomeKit so this produces some error messages in Homebridge. Otherwise they work well, albeit it a little low in brightness, especially when using colored light. |