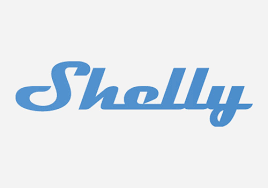 Selected products from this vendor are presented on this page, with my assessments where I have personal experiences to share. The links are primarily directed to the vendor's own pages, in English; for local pages/prices you will have to conduct your own search.
About the vendor and its products
Shelly is a Bulgarian company making different types of components for the smart home. The prices are undoubtedly favorable compared with similar products from other manufacturers and the quality is said to be good. The product selection contains smart relay switches for various purposes, smart bulbs and plugs as well as some sensors and other accessories (mostly all of them use WiFi for communication):
Smart replay switches, i.e., small switches for installation inside wall recesses or other suitable locations, in different versions:

Shelly 1, a smart relay switch for one connected device (it is also possible to buy a separate temperature sensor for this and the 1PM)

Shelly 1PM, a version of Shelly 1 that also measures power consumption

Shelly 2.5, a smart relay switch for two connected devices or to control curtains, garage doors, etc. (as a roller shutter)

Shelly 4Pro, a smart relay for installation inside the fuse cabinet and which can control up to four circuits

Shelly EM, a smart relay mainly for monitoring power consumption and with functionality to turn off circuits to save power

Shelly Dimmer, smart relay that can be used both as an on/off switch and dimmer for one or two connected devices

Shelly RGBW, a smart relay to smarten up LED light strips

Shelly 3EM, replay for monitoring and controlling 3-phase circuits

Smart plugs, in two versions, Shelly Plug and Shelly Plug S, which look very different, but otherwise it is unclear what the difference in functionality is, they both also measure power consumption

Smart bulbs, in three versions:

Shelly Duo, with E27 socket and white light

Shelly Bulb, with E27 socket and colored light

Shelly Vintage, filament bulbs in different sizes

Shelly Eye, a smart camera with motion sensor and two-way sound, which can be used both indoor and outdoor, also almost like a smart doorbell using the motion sensor

Various sensors:

Shell Door/Window, a quite tradition version of this type of sensor, but one which also measures light level

Shelly Flood, leakage sensor that also measures temperature

Shelly H&T, temperature and humidity sensor, which is supposed to last 16 months on battery power, but which can also be powered by USB

Shelly Smoke, smoke detector that also measures temperature

Shelly Sense, this is rather unique product, which combines several sensors; light level, temperature, humidity, and motion, with a universal remote control that can send IR signals and signals via Shelly's cloud service

Shelly 1/PM Button, also a rather rare solution, this is a housing for Shelly 1/1PM smart relay turning the relay into a switch, e.g., placed on a traditional lamp cord
There is a dedicated Shelly app for connecting and managing the devices. In addition, they are kompatible with Amazon Alexa and Google Home. There is also both a Homebridge plugin and Homey app for Shelly, but during the winter of 2020, unofficial HomeKit support was released for Shelly1, Shelly1PM, Shelly Plug S, Shelly2, and Shelly2.5. This is achieved by installing new firmware on the devices, something which is easily done using this recipe (which is in German, but can easily be translated).
Notice that on phones, the table might only display in landscape mode
| Component | Room | Experiences |
| --- | --- | --- |
| Shelly 1 smart relay x 2 | Living room and tool shed | We first acquired a Shelly 1 smart relay, mounted in a Shelly Button housing, and followed the procedure to install HomeKit firmware, which was very easy. In the beginning, the experience was that it would quite often lose its connection to the network, but after a firmware update this has worked itself out. We therefore got another one, used in the living room, to measure the water temperature in the aquarium. |
| Shelly Button | | This is just a small plastic housing that a Shelly smart relay can be mounted in, making it possible to use the relay as a combined physical and smart switch. This works very well. |
| Temperature Sensor AddOn | | This is a small module that is connected to a port on the outside of a Shelly smart relay and which has connectors for external sensors. This is an elegant way to allow measuring temperature or other parameters for which there are no integrated, smart sensors. In our case it has solved our need for measuring the water temperature in the aquarium. |