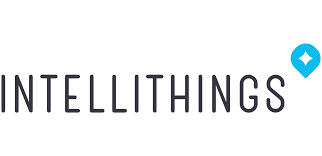 Selected products from this vendor are presented on this page, with my assessments where I have personal experiences to share. The links are primarily directed to the vendor's own pages, in English; for local pages/prices you will have to conduct your own search.
About the vendor and its products
Intellithings is a company that, at least by now, offers only one consumer product, but one that is quite unique:
RoomMe is a completely special type of sensor to control smart home devices. In kontrast to traditional motion sensors or door/window sensors, which can only tell when someone enters/is in a room, RoomMe can "see" which named person enters/is there. This is done based on the presence of smart phones owned by the household members, on which a dedicated app must be installed, and using sensors (Personal Location Sensor) installed in the ceiling above the doors into the room. In the app, it is possible to define which devices/scenes should be turned on/off when a given person arrives, the order of priority among persons if more than one is present, etc. As far as I know, there are no similar products on the market and it sounds interesting being able to achieve so detailed control.
The company's own RoomMe by Intellithings app must be used to install and program the system. One should also be aware that this is not an independent smart home control system, it installs itself "on top of" the existing system and offers an additional approach to programming and controlling this.
RoomMe utilizes the manufacturers' APIs for the different devices to control them, and there is therefore a page that lists the products which have been specifically tested and work with RoomMe (these are devices from Philips Hue, Lifx, ecobee, Sonos, and Bose). In addition, there is support for Wink and HomeKit.
We have no experiences with products from this vendor.