SOLUTIONS FOR PET MONITORING AND CARE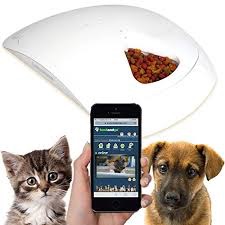 This might seem like a strange category under the heading of smart home. Arguably, the only reason why I include it is the fact that we have several cats and a dog in the house. You can certainly make the case that it does not belong here, but let me explain what types of solutions I am thinking of:
Visual monitoring/control, which in practice means using some kind of surveillance camera. Ordinary smart cameras, as described under security & alarm, are well suited for this purpose, but in addition, there are cameras tailored to pet care. These typically have additional features unique to pets, e.g., distributing treats, remotely control a laser toy or even emitting calming aromas. Also for this type of product, the selection is larger in the US market than Europe, but some examples also available in Europe are Petcube and PetKit. In our home, we use a Logitech Circle 2 to see what our dog does when we are away from home (see more under guest room 1). This camera has no specific pet features, but the integrated motion sensor triggers recording and the clips are stored so that we can review what has been going in periods of motion in the room.

Monitoring the pet's environment, i.e., using relevant sensors to check the temperature, air quality, etc. where a dog, cat, or other pet is being kept. This is useful whether the pet is home or in a car. In the former case, monitoring can be done by using sensors described under climate control, but for pets staying temporarily in a car, it can be a bit trickier finding a solutions. Newer cars than our 2011 Mini or 2012 BMW are often "online" themselves and let you check the interior temperature via an app on a smart phone/tablet/etc. For cars without such facilities, like ours, I came across the solution by coincidence; we have in the cold climate of Norway installed a Defa engine and interior heater that is online via an integrated SIM card and that lets us read the interior temperature using the Defa app.

Smart collars, which might be compared with smart watches/fitness bands for people and which are made primarily for dogs (but also some for cats). Different products offer different types of functionality, e.g., activity tracking, GPS tracking, alerts if the pet leaves a defined area, one or two way sound, monitoring of environmental parameters (like temperature, thus a way to check whether the temperature in a car where you keep the pet gets too hot or cold), etc. There are many versions on the market, but like many other product types, not all can be used outside the US. This is unfortunately the case for the smart dog collar that often wins tests, the Link AKC (AKC is an acronym for American Kennel Club) which has this feature to measure environmental temperature. Since this collar uses US cellular data, we ended up buying a Fitbark 2, which has some fewer features than the Link AKC, but has proven useful anyway.

GPS tracking, which in some cases is an added functionality to smart collars, but also a product category of its own. We have not tested any of these, but some alternatives are Whistle 3 and Tail it Pet, which both work for both dogs and cats.

Smart feeding automats/bowls, which cover a range of products with different types of functionality. The primary purpose of most of these is to control the dispensing of food, either based on time/amounts, by using an app to manually trigger dispensing, or by distinguishing by different pets based on their ID chip. Some also offer a play function where the food is thrown out while others have an integrated camera. There are many alternatives to choose among, e.g., Trixie TX6 Automatic Food Dispenser, different Cat Mate versions, and SureFeed Microchip Pet Feeder, which is the one we use to give different types of food to cats with different needs and to limit the amount of food available to the "bulkier" cats. Aqara has even launched a smart pet feeder that is compatible with HomeKit.
After this brief review, you probably see why I have been unsure whether it is a pertinent category on a smart home page. Except for surveillance cameras, there are currently few products tailored to pet care that can be integrated into a more extensive smart home environment. Most of the products mentioned are "smart" in their own way, but are mostly independent products not possible to connect to other devices. This will probably change in the future, though.
On our part, we have a number of chip-controlled feeding stations in the kitchen, smart cameras in various locations facing cats and dog, as well as smart trackers for the dog. Of the latter type, we have both a Fitbark and a Tailit, which serve slightly different functions (see examples of screenshots below). The Fitbark provides roughly the same data as a fitness tracker for people, i.e., activity level, distance, sleep, etc., but cannot be used to locate a lost dog. This is, however, the main function of Tailit, which has a built-in GPS (this requires a subscription), and can thus continuously show the position of the dog.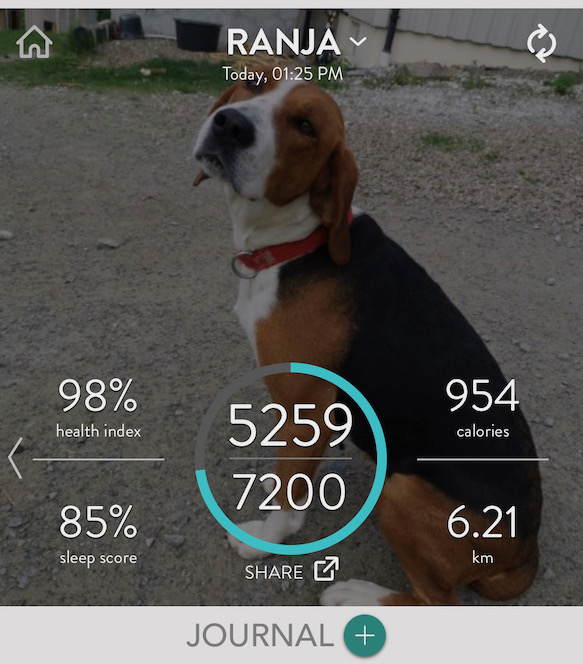 Left, the Fitbark shows a richer selection of data, right, Tailit shows only the map position